You are not required to finish your work, yet neither are you permitted to desist from it."
– Perkei Avot "Ethics of the Fathers"
Tikkun Olam
The phrase Tikkun Olam translates as " repair, or mend, or heal the world ". These terms connote the importance of reaching and stretching outside of ourselves and our own communities in the pursuit of social justice and social action.
We meet once a month to explore issues and plan interventions concerning such social ills as anti-semitism, systemic racism, health care delivery, hunger, international racism and genocide, LGBTQPlus concerns and more.
The HCS anti-racism statement was recently created and released.
For many years we have run very successful drives collecting food, clothing, sundries, baby items, blankets, shoes, socks, pajamas, school supplies, and books in cooperation with local, national and international organizations.
Now, we are stepping up our efforts to transform our past Social Action into broader Tikkun Olam in order to meet today's and tomorrow's changing needs and issues. Join us in this exciting new effort to "Repair the World."
Join us if you are interested in becoming active in developing productive, efficacious, creative pathways forward towards Tikkun Olam.
If Interested Please Contact:
Vicki Stein Prusnofsky
Chairperson
victoriaprusnofsky@gmail.com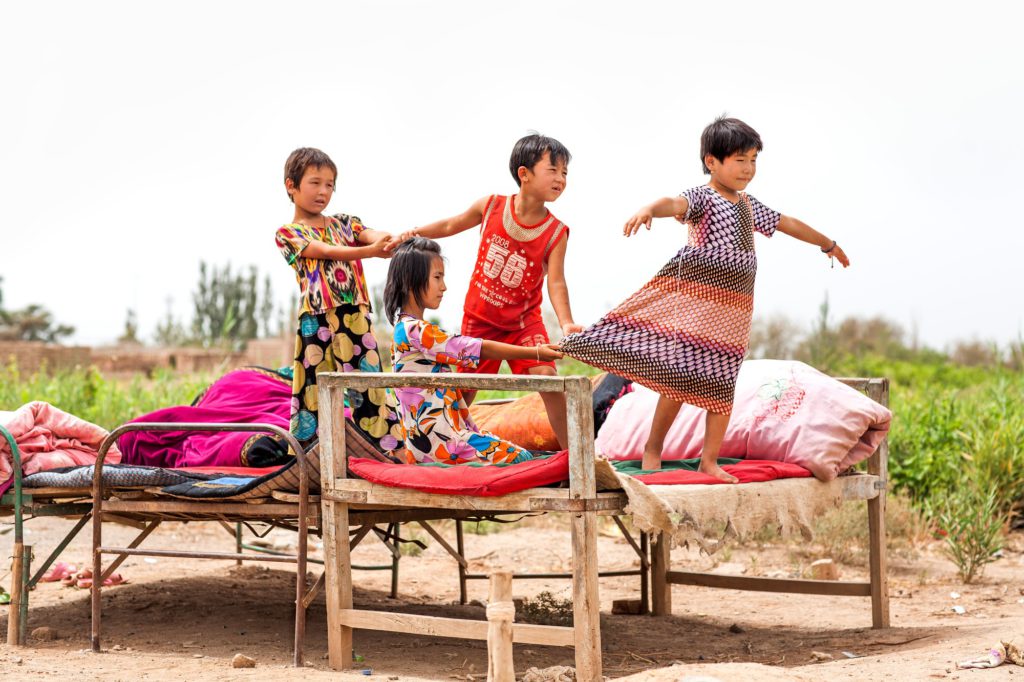 Help the Uyghur
The Uyghur People dwelling in the Xinjiang Region of Northwestern China for hundreds of years are under siege. They are ethnically Turkic/Muslim and Nationally Chinese.
The Chinese Government has been conducting ongoing crimes against humanity and genocide against the Uyghurs for years.
The United Nations, the United States, Great Britain and others have declared China's actions to be officially crimes against humanity and genocide.
Specifically, the Chinese government is carrying out disappearances and murders against keepers of Uyghur culture such as university professors, teachers, scientists, artists, writers, musicians, actors and many others from all walks of life. The atrocities perpetrated include forced labor, forced sterilization, forced abortions, separating families, sham trials and imprisonments, forced organ harvesting and executions.
Over 5000 mosques have been destroyed.
Three million Uyghurs are in concentration camps. In Uyghur towns, prayer is forbidden, any religious rituals and ceremonies are forbidden, books are destroyed, halal food is forbidden, "forced guests " who are government agents are placed in homes for constant surveillance, passports and property are confiscated, mobile spyware is placed everywhere, police have the order to take DNA samples from anyone at any time, there is mandatory vehicle tracking and more.
During World War II, many said they "didn't know". We can no longer say that. We know and we must take action!
Here is what our HCS Community can do:

DONATIONS and INFORMATION:
1) SAVE UYGHURS
www.saveuighur.org/donate/
2) Justice For All
info@justiceforall.org
3) Uyghur Human Rights Project
https://Huron.org/.
4) The Coalition to End Forced
Labor in the Uyghur Region
P.O. Box 34272
Washington, DC 20043
5) Campaign for Uyghurs
Shop AmazonSmile.
amazon.com

LETTER WRITING CAMPAIGN
Senator Charles Schumer
One Park Place
Suite100
Peekskill, N.Y. 10566

Senator Kirsten Gilibrand
O'Brien Federal Office Building
11A Clinton Avenue
Room 821
Albany, N.Y. 12207

U.S. Representative Patrick Mahoney
18th Congressional Rep.
123 Grand Street
2nd Floor
Newburgh, N.Y. 12550


COMPANIES USING UYGHUR FORCED LABOR
Volkswagen
https://www.vw.com
800-822-8987
#vwcares
Twitter directmessage@vw

Zara USA
#calloutzara
500 5th Avenue , Suite 400
N.Y., N.Y. 10110
https://www.zara.com

Thank you all so much for reading this urgent message. Thank you all so much for taking action!
For more information or to help the Uyghurs visit this website >

Shalom,
The HCS Tikkun Olam Committee
Questions?
Contact Vicki Prusnofsky, Chairperson
victoriaprusnofsky@gmail.com