GRADES K–8
Welcome to HCS Hebrew School!
Our Hebrew School is a place where families are embraced and children feel at home. Our Rabbi, Education Director, and teachers are collaborators, constantly and creatively searching for ways to reach every child with a living, breathing approach to Jewish life and learning. We care deeply, not only about Jewish learning, but about our students as individuals. Highly attuned to the spiritual, educational and social needs of our students, we strive to connect our students and families to a rich, vibrant and exciting personal relationship with Judaism.
In order to enroll in Hebrew School, families need to be members of HCS.
What makes us unique?
Connection with G-d: We encourage students to develop a personal relationship with their own concept and understanding of G-d. Rabbi Shosh, using music, nature, and her deep spiritual understanding, helps us to examine our own beliefs.
Meaning-making: Led by Rabbi Shosh, we guide students to dive in and interact with Jewish material; to find and grapple with their own connections
Mitzvah of the month! Song of the month! We share this mitzvah/music curriculum throughout the HCS community so that we all enjoy the learning and Jewish living.
Connection to nature: Our synagogue is on forested land, next to a beautiful lake. We spend time with the trees, looking at clouds and breathing deeply, praying and reflecting.
Artistic expression: Our Education Director, Jill Liflander, is a multidisciplinary artist and educator, and many of our teachers are artists as well. We find ways to express ourselves through art, creating and exploring new dimensions of our Jewish identities. For example: We have an annual multigenerational TuBishvat art show where we celebrate trees.
Storytelling: Jill Liflander is also an ordained Morei Sippurim, teacher of stories. She weaves stories and storytelling into our Tefillah programming, delighting children and families with the beauty of our oral tradition.
Academic rigor and creativity: We strike a balance between academic achievement and creative exploration. Our students emerge from this program with a solid understanding of the Torah stories and the Shabbat service.
Value of questioning: We love to hear questions! Please ask away!
Music, dance, play: We are rooted in playfulness and joy!
Bettering: We humbly push ourselves to always be better. More inclusive. More sensitive. More understanding. To open our doors and our hearts.
Quality: Because our synagogue is primarily volunteer operated, we are able to offer you low cost/high-quality community membership and tuition.
Israel: We teach a deep love and respect for Israel through music, food, geography, and honest conversations.
B Mitzvah workshops: Sixth and seventh grade students and families engage in an exploratory family journey with Rabbi Shosh during their B Mitzvah years (Be the mitzvah).
Collaborative spirit: Based on Reconstructionist Judaism's model of egalitarian leadership, our Hebrew school models the same collaborative spirit.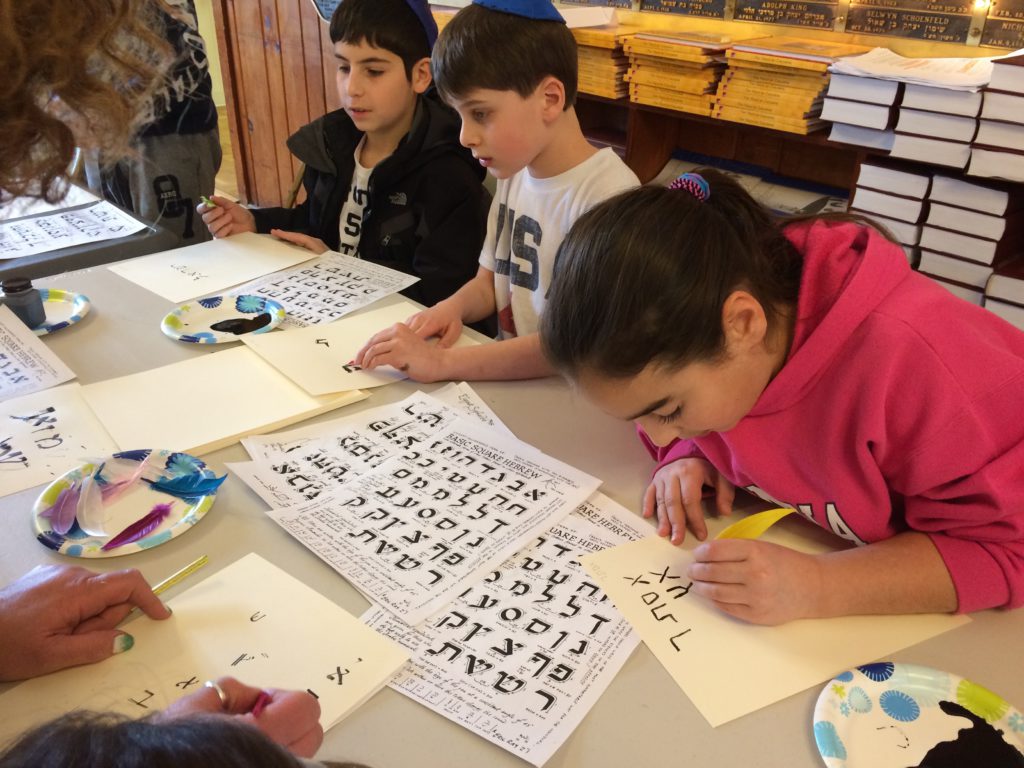 "Under Morah Jill's leadership, our Hebrew school feels like a combination of Jill's Bubbe's kitchen, and an ethically-rooted 21st century space for children to discover who they are in the context of Jewish life. Children experience joy, healing, hope and are challenged to think more deeply about hard and real questions while being nurtured with Jill's homemade Jewish apple cake."
"We are multi-racial, neurodiverse + neurotypical, LGBT+ and always open to receiving guests, elders and visitors from within the HCS community and beyond. We engage in Tikkun Olam and show up for each other in times of need with homemade cards and soup. We are a true community seeking for meaning and the opportunities to express our core values joyfully. We learn Hebrew, meaningful prayer practices and Torah story literacy, and how to chant from the Torah long past the day of our B Mitzvah."
-Rabbi Shoshana Leis
"We are creating the Hebrew School that I wish that I had experienced as a child. Each member of our community is treasured as we embrace the joys and the sorrows of life together. Rabbi Shosh is down-to-earth, kind, and she shares her Jewish process with us all. She challenges our students to step into their Jewish learning and search for meaning-making and personal practice. We watch the tops of trees swaying when saying "Shemah" on our lawn, we sit on the bima rug, talking Torah. We dress up in costumes as our favorite Jewish figures, and we read poetry together on Yom HaShoah. HCS congregants are our village. Our natural surroundings provide inspiration and context for the richness of Jewish life ."
-Morah Jill Liflander Education Director
Curriculum
We have chosen Shalom Learning Judaics and Hebrew curriculum for our school, embellishing lessons with our unique approach to learning and living Jewishly.
Shalom Learning is VALUES BASED, meaning that we teach core Jewish values (for example tzedakah, or tikkun olam) as the organizing principles of our learning about Torah, holidays, history, literature, and philosophy.
Our K-2 curriculum examines Jewish values through the lens of the SENSES and we are introduced to an experiential approach to the 'aleph-bet.'
Shalom Learning K-2nd Grade curriculum
Our 3rd and 4th graders study Jewish values through a lens of FAMILY and SELF. Our Hebrew curriculum focuses on reading through tefillah (using Shabbat prayers from our siddur, prayerbook).
Shalom Learning 3-4 Grade curriculum
Our 5th graders examine Jewish values through a lens of PEERS and deepen their Hebrew learning through studying Tefillah on Sundays and Tuesday afternoons. They are beginning the B mitzvah program.
Shalom Learning 5th Grade curriculum
Our 6th and 7th graders extend their exploration of Jewish Values to an understanding of COMMUNITY and THE WORLD and are engaged in a vigorous B mitzvah learning program on Sundays and Tuesdays.
Shalom Learning 6-7th Grade curriculum
One of our Hebrew resources for our students is the Prayer Mastery Chart. Each student receives a prayer mastery chart where we track progress throughout the year(s).
ONLINE RESOURCES
A variety of resources, including prayers sung by Cantor Ruth and Cantorial Soloist Raechel Rosen with the tunes we use at HCS, are available for use by the Hebrew School community.
B'nei Mitzvah manual
Please read over our B'nei Mitzvah manual to learn about our program.
---
Recent Posts
---